Life gets busy sometimes doesn't it? As a matter of fact, at times I think it just keeps accelerating with no end in sight. Many of you have noticed that I seem to have disappeared from the face of the blogosphere. Thank you for noticing and caring. :) No, I'm still clinging to an edge and working my way off this "To Do" list.
Yes, I'm one of those. I'm motivated by progress so crossing things off of my list gives me a visual point to measure my progress. That motivates me to keep going so that I get it all done. Well, that's the way it used to work. These days my "To Do" list has turned into a never ending list that always has something undone on it. (sigh) Actually, I have also learned that I enjoy being busy. I just need to keep it balanced. I like activity not chaos.
So today I thought I would share my list with you, in no specific order. This is not meant to be completed in a single day, but wouldn't that be great if I did! I didn't list the daily stuff of taking care of the girls. (TGIF) Feel free to pick up a task or two. :)
Wake up
(This starts the day on a positive note and I get to cross something off my list right away.)
Spend Time with God (Do this all day too. And never cross it off the list.)
Mop Floors
Laundry
Change Sheets
Vacume
Dust
Clean Glass Tops
Clean Windows
Clean Bathrooms
Wash Truck
Groceries (Make list)
Clean Carpets
Repair Patio
Make Blog Designs
Hedge Shrubs - Front yard
Hedge Shrubs - Back yard
MowEdge
Spray Weed Killer (Yes I do. If you want to pull my weeds I'll stop. I don't do this often.)
Spray Insect Killer (Yes this too. My grandaughters are covered in bug bites. I don't do this often either.)
Sewing (Fix-its)
Go to Home Depot (Take list)
Schedule Meeting Room
Get DBA
Go to Bank
Do it again
Setup Google Docs
Find Press Release Template
Design T-shirts
Print and Cut Flyers
So what's on your list?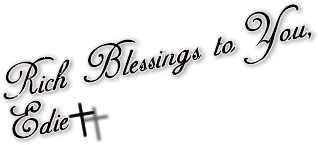 Love the Lord your God with all your heart and with all your soul and with all your strength and with all your mind ~ Luke 10:27