This is a quote from Spurgeon's Daily Devotionals for Sunday.
Surely the righteous shall give thanks unto thy name: the upright shall dwell in thy presence. (Psalm 140:13)

"'The upright shall dwell in thy presence!' They shall stand accepted where others appear only to be condemned."
I just stopped as I read those words, and a few faces quickly flashed through my mind. I thought about those who oppress, abuse, snub and mistreat others for their own selfish gain and have gotten away with it. They think, because there have been no consequences to their actions, that they are winning the battle. But in reality, they are deceived in their thinking and will one day discover the truth. They will discover that they were losing all along. The question is whether they will discover and trust in Jesus
before
that day of judgement.
Lord I thank you that you have accepted me and have helped me to know you. Draw me nearer still and don't let me step to the left or the right but keep
me centered on you. I lift up all of these that came to mind, and I pray that you would speak to their hearts and invite them to know you now. In Jesus Name - Amen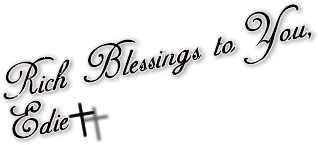 Love the Lord your God with all your heart and with all your soul and with all your strength and with all your mind ~ Luke 10:27