One weekend my grandma, and her sister, F, decided to take a day and go visit another of their sisters, L. It was about a 90 minute drive one way. On the way home, while driving down the freeway, a car with two hispanic men pulled alongside my grandma's car. After getting F's attention they motioned for the two elderly ladies to pull over to the shoulder. They pointed to the tires on grandma's car and made a rocking motion their hands.
I want to make a note here that the reason I am mentioning ethnic background is to give you a detailed visual. It's the same reason I use the word elderly to describe my grandma and her sister. God is in the details. He designed all nationalities and each of them has some features generally characteristic for that nationality. Hispanics generally aren't very tall people. In addition, there was a fair amount of racial tension in the area at the time. I am not making any derogatory statements about race so please don't take it that way. Now on with the story.
F told grandma she should pull over but grandma said she wanted to wait a minute for the men to leave. This was in California and at a time when car-jackings were on the rise. The car with the two men drove ahead so grandma pulled over to the shoulder.
Immediately another car with two more hispanic men pulled up behind them, and following it still another car pulled up behind that one. A very large african-american man got out of the last car, walked up to the car in front of his and told the two men to leave, that he would take care of the ladies.
The man walked over to grandma's car and asked what the problem was so the ladies explained what happened. The man, who was dressed in a suit, took his jacket off and climbed under their car to inspect the tire. After a moment he came back out and told my grandma he could find nothing wrong and to drive ahead of him for a bit so he could see the tire in motion. After driving for a little way, the man pulled up next to my grandma and gave her a thumbs up then drove away. We have always wondered if that man was an angel of the Lord.
The angel of the LORD encamps around those who fear him, and he delivers them. Psalm 34:7
Even to your old age and gray hairs I am He, I am He who will sustain you. I have made you and I will carry you; I will sustain you and I will rescue you. Isaiah 46:4
Not only is His timing perfect, but God does not overlook one single detail in anything that He sets out to accomplish.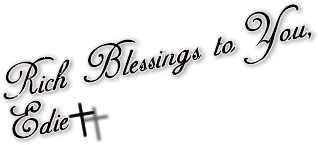 "A girl needs to be so lost in God, that the guy is going to have to seek HIM to find her!" ...Maya Angelou