Dear God,
I'm having a little problem and I was wondering if you wouldn't mind helping me out. It's about this aging process. I'm having kind of a tough time with it. I was just looking at a picture of myself taken a year ago and noticed I only had one chin back then. And these jowls are most unbecoming. Do you think it would be okay to tweak the gravitational pull just a tad? I suspect it's due for calibration.
I'm sure it would help to decrease, or even eliminate the pain I get in the balls of my feet when I stand or walk for more than an hour. I could then go back to walking miles and get in shape again, I know you are concerned with my health and fitness.
I'm sure my back wouldn't hurt when I sit on the floor, and my knees would once again be able to move me from that position to a standing position without complaint. I believe my scale would give a more accurate weight reading as well.
The girls have started trying to play with the jiggle on the back of my arms lately. The gravitational pull is clearly a bit too strong since I am exercising with weights but the girls still want to play with the jiggle. There are a few other places that seem to have more of jiggle these days too and I am so thankful that you have allowed those areas to escape their attention.
Thank you God that you hear me and that you promise to take care of all my needs. This one little thing would be most helpful.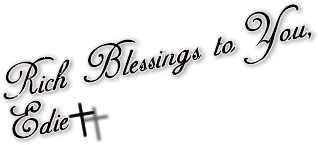 A girl needs to be so lost in God, that the guy is going to have to seek HIM to find her!