Happy New Year to all of my dear bloggy friends! I am joining Sonya's Thankful Thursday today as I reflect on 2008 and set my sights on what God has in store for 2009.

This last year has been an incredible year of discovering God in so many new ways. I think the central theme for me this year has been Trust. God has challenged me to trust Him in ways that are new to me and I have found Freedom, and Adventure, and Awe of Him like I have never known. I want to live my life in pure and simple Trust and Obedience, without the safety net.

In these last couple of months I have felt the winds of change beginning to blow in. God is moving and I sense a new course taking shape. New possibilities are beginning to take root, doors of opportunity are beginning to open, new ideas are brewing, and excitement is in the air. I am looking forward to stepping into the unknown with my God and Trusting Him with the outcome.

1 - Thank you Lord for the incredible peace you have given me this year in these unusual and somewhat confusing circumstances that you have placed me in. Your provision has been unfailing.

2 - Thank you Lord for bringing me into the blogosphere. This has been a blessing that I never would have imagined. You have brought healing to my heart through the many people I've met here and their writings. Healing through tears and through wonderful laughter. You have brought me lasting friendships with many wonderful sisters in Christ. And you have even used me to be a blessing to others here.

3 - Thank you Lord for the growth I have seen in my grandaughters. This year I have watched them go from listening to me pray, to praying their own LONG list of "Thank yous" and "Help Mes". They have learned scripture and are excited to do so. They have brought questions about you to me at times that were not expected. Continue to draw them near to you Lord and reveal yourself to them.

4 - Thank you Lord for some of the changes I am beginning to see lately, and the new opportunities that you have set before me. I still don't know exactly what you have in store but I will follow you. Please give me clear direction and wisdom in decisions.

5 - Thank you Lord for the recent help you have brought my way in things that were just a little too much for me by myself.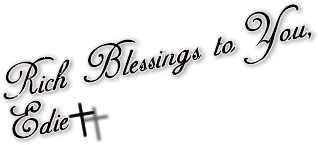 Love the Lord your God with all your heart and with all your soul and with all your strength and with all your mind ~ Luke 10:27