I want to thank you all so much for all your prayers. I can't even begin to tell you how much I appreciate each and every one of you. My situation is still unresolved but I have seen God's hand in these circumstances and I know it is a result of your prayers. Thank you again. I just love you all. What a wonderful bunch I get to spend eternity with.
I have been extremely busy organizing a Tea Party (Taxed Enough Already protest) in my area and watching my granddaughters full time so I haven't had any opportunity for blogging. I am sorry for not visiting much lately, but I will come by your blogs to thank you personally for your prayers as time permits. I hope that doesn't sound rude.
*******
Now I want to wish a very HAPPY BIRTHDAY to TWO of my very dear bloggy friends. It's no April Fools joke, this is the real deal.
My good friend ADHD-Jo (aka Mary) at
Monkey's are Funny
is having a party at her blog today. Of course she didn't know about the party, it was a little surprise to her. Her sister Chatty Kelly and I hi-jacked her blog and poor Mary is at our mercy. :D
Go visit her blog and wish her lots of birthday blessings. She's a lot of fun and "you'll laugh so much your sides will ache, your heart will go pitter pat." I wonder how many of you know what tv cartoon song that is from.
*******
My other good friend Stephanie at
TruthSharer
is also celebrating her birthday today. I just found out about it myself. Stephanie is a wonderful lady who loves the LORD with all her heart. She is a wonderful encourager and Prayer Warrior! God is doing some incredible things through her at the
Shepherd's Walk at Sweetbriar
.
Please go visit Stephanie and wish her many blessings for her birthday too. You will be so glad you met her. When I first met Stephanie through an email she sent me, we couldn't stop *talking*. :D She is such a delight and I know you will love her as much as I do.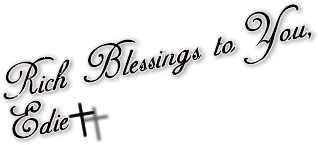 Love the Lord your God with all your heart and with all your soul and with all your strength and with all your mind ~ Luke 10:27