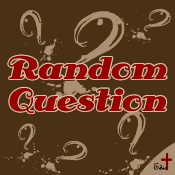 Well all week long we've been talking about the way God designed us, surely you knew it was leading up to something. :) This week's question is ...
"What's Your deSign?"
What specific qualities did God implant in you when He designed you? These could be talents, skills, passions, etc. They are things that you do well and could spend hours doing without feeling the time pass.
Over the past several years God has really been teaching me so much about Himself as He is teaching me about how He designed me. It's hard to choose the exact starting point since I can take everything back to birth practically, but none of us has that much time and I seriously doubt that any of you has that much interest either.
"The thief comes only to steal and kill and destroy; I have come that they may have life, and have it to the full." (John 10:10) NIV ~ [emphasis mine]




"The thief does not come except to steal, and to kill, and to destroy. I have come that they may have life, and that they may have it more abundantly." (John 10:10)
NKJV ~ [emphasis mine]
Have you ever really looked at that scripture, at those words? I have, and realized that my life was anything but abundant. I certainly felt the impact the thief was having on my life but I had to admit that I did not feel that I was living the life Jesus said He came to give. This is not just a spiritual truth intended for the other side of eternity only. It's for this life as well. So I asked God to show me what this is supposed to look like in my life. How can I live this kind of a life? I'm so glad God likes deep questions. :)
I felt like I was plodding through life. Walking from one day to the next in oppression, boredom, lifelessness, and without purpose. Was this it? Was this what I was to do until I reached the end of this life? Ugh! But God ... two of my favorite words. God began teaching me many things. Among them, He has put a great deal of emphasis on the way He designed me. You see, first I had to get a right view of myself, His view of me. Ok sometimes I still think to low of myself and sometimes I still think to highly of myself but He has brought me a lot closer to His view, the proper perspective.
I am still learning, but He began to show me some of the specific strengths and abilities that He gave me. Some of these came so naturally to me that I thought everyone possessed these qualities. That is one way you can tell they are a true strength in you. I began paying a lot of attention to things I said and did and what things got me really motivated when I did them. And I noticed how the specific set of qualities that He gave me, worked together to form the unique way that I applied them.
I'm an analyzer. Someone recently said to me that my favorite word was "however" because I tend look at, examine, and dissect every possible aspect of a situation.
Creating structure and efficiency comes naturally to me. I discovered that this was one of the major things that frustrated me where I worked because the owners of the company were absolutely opposed to structure.
I love details. I have always loved details. I'm one of those people that will notice if a picture is hanging crooked and I will straighten it. I notice details in creation, in art, in animals, and in people. I tend to pick up on individuality traits, preferences, and tendencies in other people fairly quickly.
I love helping others, doing for others. We all do in different ways. In me, I have discovered that when I hear someone express a need or desire for something, it motivates me into action.
I love to create. More specifically, I love to design. When I was a little girl someone said something to me that sent the message that I had no creative or artistic ability in me at all and that no one would want anything that I made. I lived with this belief throughout the majority of my life. As a matter of fact, up until just recently.
"And I have filled him with the Spirit of God, in wisdom, in understanding, in knowledge, and in all manner of workmanship, to design artistic works ..... I have put wisdom in the hearts of all the gifted artisans, that they may make all that I have commanded" (Exodus 31:3-6)
My desire to create became overwhelming within me. God showed me that He designed me to design, to be an artist. Now this is not to say that I think I'm "All That", but that God has shown me that He has created me to be artistic. I also realized that designing without a purpose was just as frustrating as not designing at all. No, God designed me to design for others. He designs each of us with the very "tools", skills, abilities, talents, and passions that we will need in order to accomplish the work that He has for us.
For we are His workmanship, created in Christ Jesus for good works, which God prepared beforehand that we should walk in them. (Ephesians 2:10)

Eric Liddell, an Olympic runner, said "I believe God made me for a purpose, but he also made me fast. And when I run I feel His pleasure." I used to wonder about that statement. How do you feel God's pleasure when you run? How can I feel God's pleasure? Eric Liddell felt God's pleasure when He did what God designed him to do, Run. I have come to realize that I feel God's pleasure when I do what I am designed to do, Design.
We are all created to glorify God. I deeply desire to glorify my Designer in and through what He designed me to do. I still don't know exactly what that will look like but He has been so faithful to bring me this far, I am sure He will not fail me now. I pray that He will use the skills He gave me to further the Kingdom and to Spread the Word.
So how are you designed? Write about it on your blog and come back and use Mr Linky to link to it. I'm looking forward to reading about you! Don't forget to leave a comment.
If you are interested in learning more on discovering who God created you to be and what that looks like in your life, take a look through my favorite books list for some great resources.