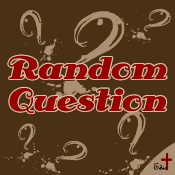 I know I usually have a deep, thought provoking question on Fridays, but today I felt led to ask something that everyone can answer. This nation is at a critical time right now. We are a powerful nation ONLY because we began as a nation under God.
Are we still a nation under God?
I believe that this nation is at a very critical crossroad right now. We have lived all of our lives with the freedom to do and say just about whatever we want. We have been given much power and wealth compared to other nations. Now many in this country seem to have this idea that we deserve this freedom and that we are invincible. We take these things for granted. We have come to depend on ourselves instead of our God. To many, God is something you can have on the sidelines, but should not affect your decisions or your job or any person who holds a different view. It is not only the unbeliever who holds these views but many who say they are Christian also hold these views.
That is not what the Bible teaches. God should affect every thought, decision, action, and word spoken from His people. For a very long time and more and more, God's people have remained silent and allowed the enemy to take over this country bit by bit. This country reeks of immorality, oppression, abuse, greed, and evil of all kinds.
I have to say that I don't believe that we are living as a nation under God. I do believe that we can be again. As I watch and listen to the people in this country, two thoughts continually come to my mind. The first one is that the wheat is being seperated from the chaff, the sheep from the goats. This nation is so clearly divided that there is almost no mistaking one side from the other. The second thing that continually comes to my mind is a scripture. Ok two.
"But if serving the LORD seems undesirable to you, then choose for yourselves
this day whom you will serve" ... (Joshua 24:15)
"If you forsake the LORD and serve foreign gods, he will turn and bring disaster
on you and make an end of you, after he has been good to you." (Joshua 24:20)
I believe that God is saying these words to the people of this nation. We are not invincible. God can bring this nation down if He chose to do so, and it would be highy arrogant of us to think that He would never choose to no matter how we behave. He is a God who loves us enough to dicipline us.
"America will never be destroyed from the outside. if we falter and lose our freedoms, it will be because we destroyed ourselves." Abraham Lincoln
I am asking you today, are we still a nation under God? Please write about
this on your blog and include a prayer for this nation. Please ask all who read
it to do the same.

Dear Lord forgive me for my own complacency in praying for those that you have placed in positions of authority over this nation. It is by the Power of the Name of Jesus Christ that we have become a great nation. Lord we have become a terribly sinful nation. Please pierce our hearts Lord. Call on your people thoughout this nation to bow before you in prayer. Save us from ourselves Lord. Open wide our eyes to see all that is happening in this country from your perspective. Cleanse our hearts. Holy Spirit stir the hearts of your people. Create an intense love for our Savior and desire within us to follow hard after you and to obey all that you command. I lift up all those you have placed in authority over this nation, that they would have hearts to seek your counsel and to obey you. I pray that you would choose leaders thoughout this country who will call on the Name of Jesus Christ. I pray that you would infuse courage into all of your people that we would no longer be silent but speak up for the Name of Christ. Lord give us one mind as we vote this election, the mind of Christ. I ask these things for your Glory and your Name's Sake. In Christ ~ Amen