Don't you just love the way conversations turn out? My dog Tobi was outside. (There is a picture of her in my sidebar. Isn't she cute? Anyway, Ashleigh let her in and said Tobi was sweating. So Olivia commented that she didn't know that dogs could sweat. I told her they didn't, then I found out that's not exactly true, but they don't sweat like people do. That's a story for another day.
Anyway, so she tells me that hippos sweat is colored but she couldn't tell me what color. Yes I asked. I googled the answer because inquiring minds want to know. What I found out is very cool. Ha! Cool... sweat is to cool you off... get it? Ok never mind.
Yes hippos sweat is a red-orange color. Not only that BUT, their sweat contains substances that prevent infection and sunburn. When Hippos are wounded, they rarely get infection. One day your sunscreen or antibiotic ointment might contain hippo sweat. Isn't that appealing?
It just amazes me that we can learn so much about the love of God through His creation and the way He lovingly designed everything. Everything has a purpose right down to the sweat pores of a hippo.
...but your heavenly Father already knows all your needs.

Seek the Kingdom of God above all else, and live righteously, and he will give you everything you need.

Matthew 6:32-33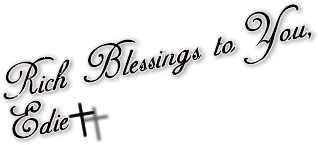 A girl needs to be so lost in God, that the guy is going to have to seek HIM to find her!