I'm a planner. I don't like taking risks. I like to see what's in front of me so that I can make the best decisions possible for the circumstances. I like to be prepared.
We live by faith, not by sight. 2 Corinthians 5:7
About a year and half to two years ago I began to realize that I was living the safe life and not the Faith life. Faith is proved by living it out, not just saying it. Oh sure I didn't leave God when the going got tough. Where would I go?
"You do not want to leave too, do you?" Jesus asked the Twelve. Simon Peter answered him, "Lord, to whom shall we go? You have the words of eternal life. We believe and know that you are the Holy One of God." John 6:67-69
Believing that Jesus is LORD is faith, it is saving faith. But we aren't supposed to stop there. We must continue to work out and grow our faith throughout our lives. Faith is trusting God. He promises to guide us at all times. He promises never to leave us or forsake us. Now either I believe that or I don't.
The bottom line is, faith requires taking risks and I couldn't honestly say that I was doing that. I began to ask God to make me a risk taker. He answered and told me to step off the cliff and trust that His unseen Hand would hold me up. I obeyed and began to live without the safety net. I prayed that I would always live without the safety net and He has answered.
I loved this new freedom that I had. It was exciting. It was living life to the full. Now I have to confess that I'm getting scared. Fear is not faith, it is doubt. He has never failed me so why do I doubt Him now!? I keep looking for the safety net and when I don't see it I get scared. I need to focus on Jesus and trust Him to hold me, not on the safety net. The mighty Hand of God is far more secure than any safety net ever was or ever will be.
Oh Lord please forgive me for not trusting you in these circumstances. I love you with all my heart and want more than anything to please you, to live a life in absolute, whole-hearted faith. Please help me to stop looking for the safety net and to trust you to guide me in these circumstances. Please calm my anxious heart and increase my faith. In Jesus Name I pray. Amen
What is your safety net?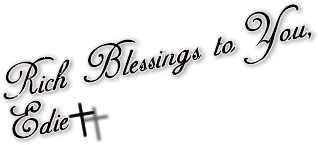 A girl needs to be so lost in God, that the guy is going to have to seek HIM to find her!