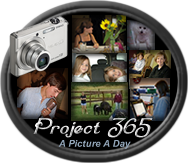 Week 2 of Project 365 hosted by
Sara
. Would love to see your pictures too.
Sunday - I have three pictures for today. There just wasn't enough room to get them all in the same picture. Creative moments here. The two little ones are decorating new church bags and Word Girl is creating a picture on canvas paper.


Monday -This is the look I get when I try to sit down on the couch while Tobi is there.

Tuesday - Re-insulated the water heater. Have I mentioned how much I dislike jobs like this?

Wednesday - Took Word Girl to the orthodontist.

Thursday - New faucet covers. I had never heard of these when I lived in California.

Friday - Picked up Word Girl from school for another orthodontist appt.

Thanks for visiting!


"A girl needs to be so lost in God, that the guy is going to have to seek HIM to find her!" ...Maya Angelou