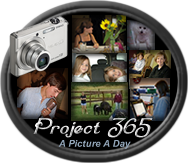 We're beginning a New Year with Project 365 hosted by
Sara
. Join us won't you?
I'm starting out by coming up three days short on pictures this week.

Monday - Word Girl spent most of the day sewing with the sewing machine she got for Christmas. This is a wall pocket that she made. Can you tell she's excited? I do believe she enjoys sewing. (This picture was actually taken on Tuesday but the sewing was done on Monday.)

Tuesday - In the picture it looks like it's raining but that is actually snow. You can see it accumulating a little on the grass. It was a bit slushy and didn't stick for long. Word Girl was only too happy to check my mail for me.

Wednesday - The girls spent the night and decorated little boxes. I wasn't feeling very well so the poor little things endured a grumpy grandma.

Thursday
- My book arrived today. I'm joining Yolanda at
Joy Comes In The Morning
in a study on the Names of God. I've been wanting to do a study on the Names of God for a while now so I jumped on it when Yolanda mentioned that she was doing this. We are just about to start so there's still time to join us.
If you would like to join us in this study, the book is available at ChristianBooks.com. It was on sale when I posted this. My book arrived only 3 days after I ordered it even though I selected the least expensive shipping method. And if you use the search box below to order it, you will be helping me as well.

Thanks for stopping by! Enjoy your week!


"A girl needs to be so lost in God, that the guy is going to have to seek HIM to find her!" ...Maya Angelou