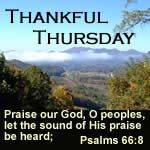 Sonya at Truth for the Journey has passed the mantle of leading Thankful Thursdays on to Greg at Greg's General Store. Sonya was a wonderful leader for this meme and I have to say she couldn't have picked a better person to take on this role. So today I join Greg and all his followers for Thankful Thursday.
I am thankful that God led me to reconnect with my Jr High friend at this time and that He has a plan and a purpose for this.
I am thanful for all you sweet bloggy friends who have prayed for my friend and for me. It means so much to me.
I am thanful for the home that God has given me. I think about the people who are homeless and without a roof over their heads and my heart really goes out to them.
I am thankful for my SUV that God picked out for me several years ago. I had been praying for a passenger vehicle for a little while so that I could more easily, and safely carry my sweet little cargo of grand-girls around but I never dreamed of anything like this SUV. It is exceedingly, abundantly above what I asked for or imagined.
I am thankful that I only have two payments left on the SUV and that debt will be gone. Yay!
I am thankful for the work that God has given, and that He uses me to touch other's lives like He does.
I am thankful that my bloggy friends still come by to visit me even though I haven't had much time to blog visit lately. I hope to improve on that soon.
Thank you LORD that you are my Yahweh-Yireh, that you will never leave me or forsake me, and that your love is everlasting. You are my all in all and I praise and worship you with all my heart. ~ In Jesus Name, Amen

"A girl needs to be so lost in God, that the guy is going to have to seek HIM to find her!" ...Maya Angelou