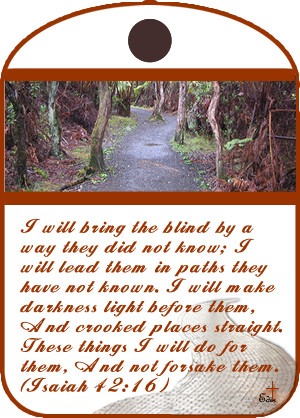 So often these days my life has felt as though I am walking through a maze in the dark. There are lots of pathways to choose between but there is only one path. It's dark so I can't use sight to find my way. I've never traveled the path so nothing is familiar to me. Sometimes it seems that no matter which way I turn, I keep bumping into walls. It can be confusing and frustrating. I just want to find the openings. I want to walk straight to my destination without the obstacles, without bumping into walls!
I was thinking about this a few days ago, trying to make sense of things and the next day God spoke a word of encouragement to me through Spurgeon's daily devotion:
"Sometimes their way seems to be a labyrinth, and they cannot imagine how they are to escape ... What they do not know, their LORD knows. He knows whom to deliver, and when to deliver, and how to deliver. He delivers in the way which is most beneficial to the godly..."
A treasure hidden in the darkness just as He has promised.
Because I cannot see, I must put all my faith in my God. I must trust that He will do what He promises; lead me, light my path, and make the crooked places straight. As I thought about what God was speaking to me through the words in that devotion, it struck me that a labyrinth is not actually a maze. It is one straight path. Yes it curves, but there are no openings that lead one to bump into walls. He will make the crooked places straight.


O Lord help me to trust you, to not grow impatient and irritable but to walk where you lead remembering that you really do know the way.