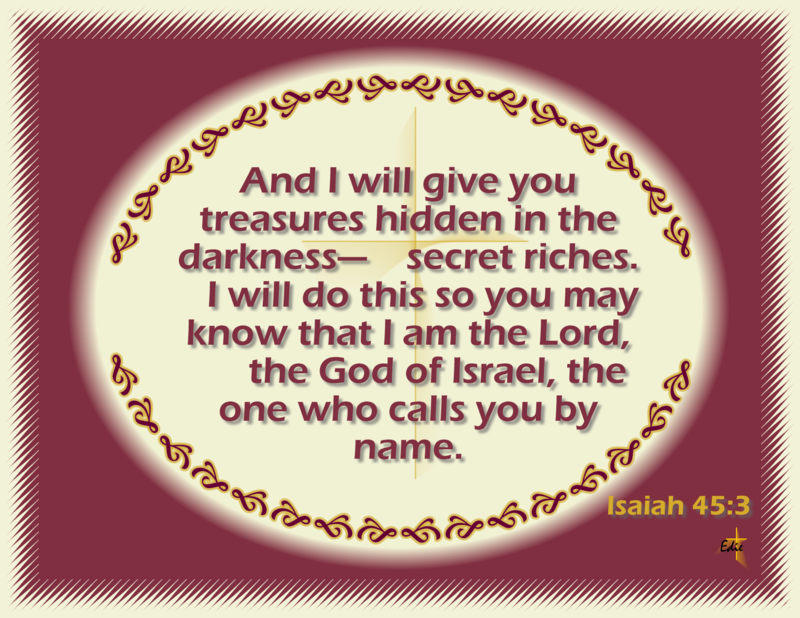 God is so Wonderful! In these last few weeks He has been calling my name, drawing me nearer to Him, and creating a hunger and thirst for Him that, if I'm honest, I haven't had for some time. Nothing is sweeter than His Voice, His Touch, His Attention. Nothing is more humbling than to come into the Light where all the dirt of my life is more than evident. Nothing is Greater than His Unmerited Favor.
He has repeatedly brought Isaiah 45:3 to my attention and directed my meditation to this scripture over that last several weeks, and I have come to realize that this is my life verse. Now I have a long list of favorite scriptures that have had great meaning in my life at various times, but I have never had a life verse before. This one scripture ties so many things together.
He has been bringing me further on this journey to discover His plans and purposes for my life. I have been on this particular path for several years now, learing a little bit along the way but things are beginning to escalate. This weekend I decided to pick up a little book that had been sitting on my bookshelf for several weeks, "5 Little Questions that Reveal the Life God Designed for You" by Dannah Gresh. At the end of each chapter Dannah asks a question pertaining to that chapter's topic and encourages you to pray and journal about it. Now, I began praying even before I started reading the book, asking God to please give me something I can apply to my life. He is so answering! He already had this journey planned out! I can see God going ahead of me throughout this study. He already has answers prepared as soon as I ask them.
The "treasures hidden in darkness"? Some translations say "treasures of the darkness." Doesn't sound so appealing that way, does it? Oh but it does! In those dark times of our life there are secret riches, hidden treasures to be found. The darker it is, the greater the treasure. In Dannah's book she talks about being driven into a cave, like David when he was running for his life from Saul. She pointed out that this is where David found his purpose, in the darkness of the cave. This is where he wrote so many of the Psalms. He might never have discovered his purpose if he had not been forced into the cave. I have been in the darkness of a cave for a very long time. But my King is with me and I am so very aware of His presence. The journey is no longer a boring drudgery, but is becoming an exciting adventure.
My LORD, my GOD, you are .... Everything .... I am speechless.