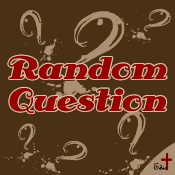 Lots of tags and awards going around again and I've been tagged on two different tags. So today's RQ is this:
Wanna Play Tag?
Tag 1 - Stephanie at Thirsty Soul tagged me to share six things I've learned this year. These are not necessarily new things, but rather lessons that God has brought - and is still bringing - into sharper focus. I was a little confused so I didn't do this right away. Sorry Stephanie! If you don't know Stephanie please go visit her, you will be blessed by her thoughts and deep love for the Lord. I hope I did this right.

1. God can be trusted. He wants me to depend completely on Him and He wants me to be free.

2. Grace - Unmerited Favor. I need to remind myself at times that it really is Unmerited. (Just a little honesty.)

3. Joy is harder for me to grasp than faith, hope, love, and grace.

4. Honesty can be hard but is always right.

5. Scripture is seeds of Truth. The more we plant these seeds in our hearts and the hearts of others, the better we will know God and keep the enemy from convincing us of lies.

6. Believing God is a choice and not about our emotions. He speaks Truth even if I don't feel it.

Tag 2 - Heather at Things Above has tagged me for 15 things I'm not afraid to admit. Heather is another dear blogger that I have only recently had the pleasure to meet but I always enjoy reading her blog! Go visit her too, you will be glad you did. Oh ... and she has a guestbook waaaayyy down at the bottom of her blog. Please go sign it cause it's lookin a little bit lonely down there. :)
1) I can drink coffee just about any time and I usually have a pot brewing about 9:00 pm on any night of the week. (That reminds me, I need to make some coffee. There's a fresh pot on now so come on over if you want some. ... come on over even if you don't.)
2) I get cold very easily ... except when I get a hot flash (like now), then I get hot very easily.
3) After one lesson in driving a standard, my boyfriend (at the time) wanted me to drive to the store ... alone. I told him I wasn't ready ... he didn't believe me ... I ran into the side of his sister's house trying to back out.
4) I usually go to bed somewhere between 1:00 am - 4:00 am. I wonder if we will have to sleep on the other side of eternity.
5) I love to watch people and to find their unique quirks qualities. :)
6) In a HS biology class we had a couple of snakes and I used to wear one like a belt during class sometimes.
7) I recall timeframes of my childhood events by the grade I was in and not the age that I was. I have to calculate my age if I wasn't in school.
8) When I was in 6th grade (see, I told you) my mom's boyfriend was an actor who had been in quite a number of movies (small parts). The Love Bug, Blackbeard's Ghost, The Gnome-Mobile ... now I have to Google him, Gil Lamb, be right back ...
Here's his filmography: http://www.imdb.com/name/nm0482957/
Here's a perfect bio of Gil: http://www.answers.com/topic/gil-lamb-actor-comedy-musical
Ok so that's not really about me, but I'm making it about me now. I really loved Gil. He made me laugh. I guess that's good since he was generally in comedy's.
9) As a child I prefered to play with racetracks over Barbies ... still do.
10) I drink milk with my meals. I buy 2% but can drink anything from non-fat to whole milk. I almost never drink sodas.
11) My 1st car was a 1969 VW Bug. (Yes the one I ran into the house.) I paid $40.00 for it. It had a dent in the hood (which you know is in the front) that looked like a giant karate chop. My boyfriend hammered out the dent and painted the car with canned spray paint that was on sale. LOL! $1.00 of gas would take me 50 miles.
12) I love to crank up praise and worship music and sing and dance to the Lord with all my might. ... um ... when I'm alone. :)
13) I can talk in a funny squeekyish (new word?) voice that I've never heard anyone else be able to do ... except my daughter.
14) I can't wait to go HOME. I think about eternity a lot and try to imagine living forever ... and in His presence. The thought of it just amazes me.
15) This one is hard for me to write because it floors me. I have been told on three different occasions by people who didn't know each other, (and when I was younger and blonde) that I looked like Heather Locklear. One time I was actually mistaken for her. It was when she was first becoming well known. Of course, I didn't know who she was. LOL!


Ok your turn. Use Mr Linky so we can all come and read about you.