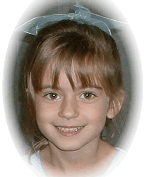 Lauren (Isn't she cute!)

For a period of time I had the pleasure of teaching a Kindergarten Sunday School class. I just loved it! We played games like "Follow Jesus" and "Jesus Says" (cause we don't know who Simon is and Jesus gives second chances). We had our Bible lesson, and snacks, and of course I took lots of pictures to make a class yearbook for each of the kids (parents) at the end of the school year.
Usually my friend Angela (not my blogging buddy) taught the lesson, but one Saturday afternoon she called me to tell me that she was sick and wouldn't be able to make it on Sunday. So I did what I could to quickly prepare for the lesson. Now, I had already studied the lesson just wasn't prepared to teach it. This lesson was from Acts 8, Phillip and the Ethiopian. I just love that when you prepare to teach a lesson, God always speaks to you personally about it first.
Overview of Acts 8:
God sends an angel to Phillip to instruct him to to go to a certain road in the dessert that travels from Jeruselem to Gaza, and Phillip does what he is told. When he gets there he meets this Ethiopian traveling along reading scripture and not understanding. He invites Phillip to ride with him and explain the scripture to him. Phillip presents the Gospel to him and just as he finishes they pass by some water. The Ethiopian wants to be baptized and so Phillip obliges, then God whisks Phillip away and the Ethiopian goes on his way
rejoicing
. (Keyword)
Now there's a lot in there worthy of discussion but what God impressed on me as I prepared for the lesson was that He always goes ahead of us and prepares the way. ALWAYS! So we sat down in our little group and just when we got to the part where the Ethiopian said "Why shouldn't I be baptized?" little Lauren, who was sitting right next to me, looked at me and said "I've never been baptized." So I asked her if she had ever asked Jesus to be the boss of her life and she said no. So I asked her if she wanted to do that and she said yes. (WooHoo) So we prayed and she asked Jesus to be the boss of her life. When her mom came to pick her up and I told her what had occured, she told me that she had been in worship praying for Lauren. Of course we both cried and we have a special friendship over this as do Lauren and I.
It was an awesome experience to watch God go ahead of me and prepare all of those circumstances just as he did with Phillip and that He prepared Lauren's heart to ask about baptism at the same point that the Ethiopian asked. God is Always Amazing!
So I wonder if the Ethiopian might have approached the baptism water with the same enthusiasm as this young boy in this video...
He will yet fill your mouth with laughter and your lips with shouts of joy. (Job 8:21)