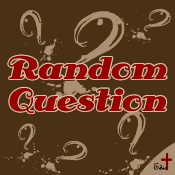 Wow I was plesantly suprised by the response I had to last week's question and that so many of you continued to participate throughout the week and not just on Friday. My purpose with this is just to provide a topic for discussion, help us all to turn our thoughts to the Most High God, and make a few friends along the way. I really enjoyed reading about your passions all week.
I had several questions come to mind as I wondered what I should ask this week. (BTW, I'm open to suggestions for future questions.) Here is what I decided on this week.
What quality of Christ's do you most see in yourself? Tell us about it.
If you're thinking that this is a tough one well I just have to say "me too." I thought that it would be good to put some focus on the positive and reflect on how much He has brought about in lieu of how far we still have to go.
You made all the delicate, inner parts of my body and knit me together in my mother's womb. Thank you for making me so wonderfully complex! Your workmanship is marvelous—how well I know it. (Psalm 139:13-14)
And I am certain that God, who began the good work within you, will continue His work until it is finally finished on the day when Christ Jesus returns. (Philippians 1:6)
I think the Christ-like quality I see most in myself is that I am an advocate for the underdog. It's funny but I see this played out as God's strength in my weakness. Not that I am doing any great deeds mind you, but that I will quickly step forward to stand up for someone who is being mistreated in some way, where I would endure it if it was being done to me. I hate injustice and my heart just breaks when I see someone, especially someone weaker, being crushed. That's what mistreatment does, it crushes.
The LORD is close to the brokenhearted and saves those who are crushed in
spirit. (Psalm 34:18)

Maybe because I know how it feels to be pushed around and treated like I don't matter, and I know how it feels to have someone come alongside of me and defend me. When I was a little girl one time I was riding my bike in the neighborhood and made some new friends. One little girl had a new bike and offered to let me ride it. I left my bike with her and rode hers around the block, when I returned there was a huge commotion. Well it turned out that she and a bunch of other kids told this girls mom that I had stolen her bike.

I left them and rode my bike home crying and they followed me in their car. Apparently there was quite a ruccus as I stood in my driveway being yelled at by a car full of people, because a neighbor who lived two houses over came over to me, told off that car full of people, and made them leave. I had never met this neighbor before that day but she was my friend from then on. Her name was Debbie Sanford (so if you're out there Debbie, I remember). We have all been mistreated in our lives, and likely have not experienced being defended as much as mistreated.

I have found myself in some situations in life where another person needed to be defended, and my automatic response was to do just that. One time when I was about 17, I was at some new friends' house and was sitting next another girl my age on the couch. At one point her boyfriend, who was standing on the opposite side of me but facing us, raised his arm to hit her and without thinking, I reached up and grabbed his arm. As if I had any strength to stop him. But it caused him not to hit her.

When Christ lived as a man, He reached out to those who were being oppressed and mistreated. Those who were crushed in spirit. He was and is our advocate and Defender.

O Lord - Thank you that you do not leave us to fend for ourselves. Thank you that you do not allow the enemy to crush us. Thank you that you have brought me through these trials in order to make me more like you. I love you my God. - In Christ

Write about your Christ-like quality on your blog and include a link to this blog, then come back here and use Mr Linky to automatically link to your post. Be sure to leave a comment here too!