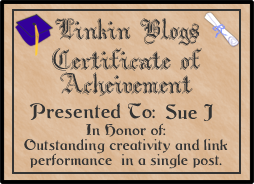 Once again I am here to present these Three of a Kind, but still Highly Unique,
Certificate of Achievements to two more individuals who have proven themselves
more than worthy of this High Honor.

To Mrs P at The Patterson 5: This Certificate is being presented for her highly developed, self-taught linking abilities, along with the diligent and consistent use of these new skills. Truely a woman of admirable perseverence!

To Sue at CREATE: Making Something of Today: This Certificate is being presented for her outstanding ability to construct a post that incorporates a link to all of her
closest bloggy friends (I'm honored to be included) while simaltaneously,
incorporating the Blog Names of her bloggy friends into the story plot of her
post. An amazing feat!

Hang these certificates proudly on your blog for all to see, admire, and covet.
If you want to meet two wonderfully kind women of the blogosphere be sure to pay them a visit. They will welcome you with love and friendship. That's what they did for me. :)