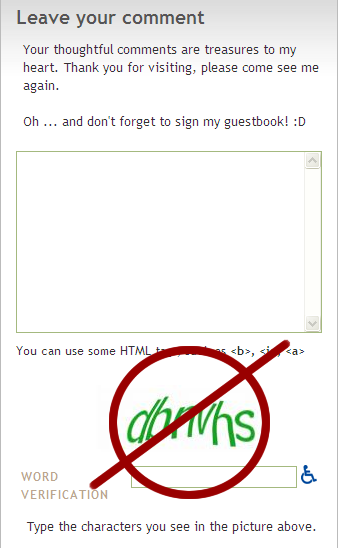 A picture is worth a thousand words right?


I don't much like to type becasue I have such a hard time moving my thoughts from their origination point and out of my fingers. (I also never type becAUse correctly and I'm not fixing it any more.) It seems that a lot of the time when I have to do the "Word Quiz" (as one dear bloggy friend calls it) I get it wrong and have to redo it. In light of this I have removed the "Word Quiz" from my comments section. You are now allowed to leave a comment whether or not you can read the letters.
It strikes me as very odd that THEY make the letters so difficult to discern. It is my understanding that the reason it reduces spam is becasue it is an image and automated spam whatchamacallits can't read images. So whey do THEY make the images hard for people to read? Becasue!
Becasue, becasue, becasue, becaaaaasue, ........becasue of the __________________ (fill in the blank)