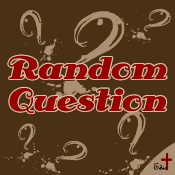 Happy Friday! It's time for our Random Question. I have to be honest, this is a question I pulled from Priscilla Shirer's book, Discerning the Voice of God". It's an excellent book and discusses an excellent topic. So on with our question.
How do you recognize when God speaks to you? Can you tell us about a specific time when you heard Him?
My sheep listen to my voice; I know them, and they follow me. (John 10:27)
If I'm going to be transparent here, then I have to admit that I have, more than once, questioned my ability to hear God. How do I know that it is Him and not my own desires? That is kind of ironic to me too since I was an agnostic in my teens. I just didn't know if there was a God, but I did know that if there was that He would be more than capable of telling me, so I asked Him... several times. One day as I was having a conversation with a friend, seemingly out of the blue I heard God say "I Am Real." Not audibly, but most definetly I heard it in my heart. I was so amazed by it that I looked at my friend and said "God just talked to me!"
I think it's interesting that even though I had never heard God speak before, I knew without a doubt that He spoke to me then. I've thought about this a number of times since then also because many times I have been unsure if I am hearing Him or not. There have also been times that I have been sure He spoke to me but then as things did not appear to occur as I had expected, I questioned if I had really heard Him to begin with.
I have found that He speaks differently in varying circumstances and people. While there have been a number of times when He has spoken loud and clear to my heart like that first time, most often I find I'm not exactly sure that He's speaking to me until I take that step into obedient faith. At those times His voice is more like a pressing or a pulling into a situation that doesn't let up until I have moved into the situation.
At times I hear His voice when I am reading the Bible or a devotional, and something jumps out at me. One time I had been praying about a strong concern I had over someones conduct toward me and a website that I was trying to access was having trouble opening properly. All of a sudden in large bold type popped up the words "
Leave Him To Me
". The words
Hit Me
and I knew that was God speaking to me.
So how about you? How do you recognize when God speaks?