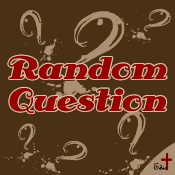 Well, it's Friday and time for this week's Random Question. Please join us won't you?
What element of creation makes you most want to worship the LORD?
The Heaven's declare Your greatness,
the ocean cry out to You,
the mountains they bow down before You,
so I'll join with the earth and I'll give my praise to You.
I find myself often looking up at the sky and thinking on God. Sometimes I think I'm looking for Him to appear there. I love to look into the sky, but that is not the element that makes me
most
want to worship Him.
I used to have my living room decorated in kind of a jungle theme. I had pictures of wild animals on the walls, animals carved out of wood, and stone, and even a real crocodile head. I didn't have the animal killed, so please don't be mad at me. I bought is because it facinated me. It also facinated the five year olds that I taught Sunday School to when we learned about creation.
It's the animals that make me most worship God. Ok, let me add that includes bugs, flying creatures and aquatic creatures too. Everything about them teaches me something about Him, about His character, and His thoughts, and His personality.
I have mentioned that I rarely ever watch television but one night I turned on the tv and went to check out the Discovery Channel. Well it was about the African Dung Beetle. I was so disappointed and started to change the channel but then there was a closeup of this little guy doing what he was created to do. Basically that was find a mate, build a house, have baby beetles, and die, and he had very little time to accomplish it too! Anyway, I found myself being amazed at the personality in this little bug and his wife. At one point he was in the way while she was trying to setup the home and she let him have it with both barrels! I thought it was pretty funny but I don't think he was too amused. But they had a purpose and they knew what it was and worked together to accomplish it. God designed their little bodies perfectly to accomplish their tasks of digging, and rolling up the supply of food that would be necessary to sustain their little bugs as mom and dad would never see them.
God gave creatures incredible camouflauges, both for protection and for hunting advantages. The leopards spots blend in with the leafy shadows of the trees. God made zebras to hang out together and the stripes make it difficult for preditors to tell where one zebra ends and another begins. There are bugs that look like leaves, fish that look like rocks, and animals that change color with the season or the environment. When feeling threatened goats play dead, puffer fishes puff into a spiny ball, and there is a lizard that looks like that cute little dinosaur in Jurassic Park whose neck fanned out like an umbrella. Then there are the built in protection weapons like the frog we met in my post on
why dogs should not eat frogs
.
God put so much thought into His creation it really is hard to choose just one element. When I look at the creatures, I see incredible beauty, protective features, defensive features, logic, imagination, creativity, variety, oddity, uniqueness, color, and personality. I have been amazed to find personality in every creature. I had a fish once in a fish bowl that, when I would walk near the bowl he would actually swim to the top of the bowl and let me pet his head.
Without a doubt, when I look at the creatures I am awestruck over my Creator.
I hope you will join us this week. Leave a comment and use Mr Linky to link to your post.