A while back I did a blog makeover for
Chatty Kelly
. She asked me to create a caricature so I created one of her using a picture she had of herself on her blog. In the picture, her hair blended into the background a bit so I didn't have a clear view of it.
This is the completed Chatty Kelly.
Later she changed her picture and I could see that her hair was nothing like in my illustration. She recently celebrated her 20 something birthday *wink*, so I took the opportunity to make her a birthday button with a more accurate representation of her hair. She loved the button but specifically commented on the hair. Here is what she said "And the hair on the birthday button - it's ME!"
Just recently I also designed a new header for
ADHD-Jo
and created a caricature of her. This was one of my first final drafts.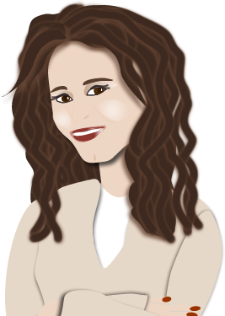 She loved it, but she said her hair actually has ringlets. (Hair is difficult for me. Can you tell?) So I added ringlets.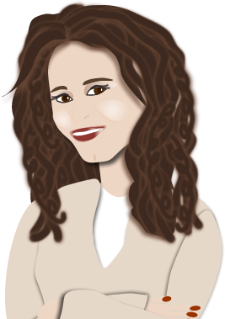 Then she said that she never wore tans or browns and asked me if I could make her shirt army green.
Then she said that she never wears red fingernail polish and could I change that. So here is the final final draft. A more accurate representation.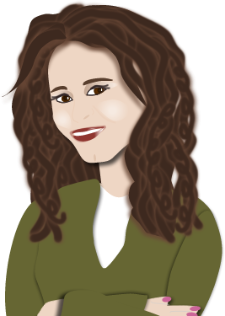 We all want to be portrayed accurately. Whenever I do a blog makeover, a button, or any custom work, the client wants an accurate representation of who they are, their style, their personality, their character, and their message.
Over the years many books have been written, images created, and movies made of Jesus Christ or of various books of the Bible. How many are accurate representations of Christ or God's Word? How accurate should we be? Does it really matter if He is shown with a halo around His head in His earthly form? Does it matter that he wasn't riding a donkey in that scene of the triumphal entry into Jerusalem? Aren't these just small, insignificant details? (My intention is not to single out these specific details but to use them as examples.) Does it really matter as long as it points someone to Christ? Is it Pharisaical to expect an accurate representation of Christ and of God's Word?
Jesus said...
I tell you the truth, until heaven and earth disappear, not the smallest letter, not the least stroke of a pen, will by any means disappear from the Law until everything is accomplished. Matthew 5:18 (emphasis mine)
I'm not going to get into all that Jesus was saying in this verse but rather, I want to reveal something of the nature of God. In this verse we see that God places a high value on every letter, every pen stroke, of His Word. The "Law" was commonly used to refer to the old testament scriptures. If God is concerned about the tiniest of details in His Word, then shouldn't we also be? Shouldn't we at least ask Him why we should be? Let's go back to the examples I used earlier. Again these are just examples.
Example 1:
In many images Jesus is portrayed with a halo around His head. I am not saying this is wrong. I'm only making an observation for the sake of example and for the point. As an artist I completely understand that artists used that as a way of showing His Deity. So that's a good thing right? Not necessarily.
Jesus was fully man and fully God. It is just as important to accurately represent the fully man part as it is to represent the fully God part. He came to earth as a man in order to identify with us. He suffered, endured, and was tempted in the same things we are.

Example 2:
I recently viewed a scene of the triumphal entry in a movie where Jesus was being carried into Jerusalem by the people instead of riding on a donkey. So why is this important?
Rejoice greatly, O Daughter of Zion!
Shout, Daughter of Jerusalem!
See, your king comes to you,
righteous and having salvation,
gentle and riding on a donkey,
on a colt, the foal of a donkey. Zechariah 9:9

This was one of the prophesies that proved that Jesus was the Messiah. If He had entered Jerusalem in any way except on the foal of a donkey, He would not have been who He said He was.
Accurate representation. It can make a World of difference.