Today is Tuesday and every Tuesday my friend
ADHD-Jo
hosts a special guest (blast from the past). Today I'm following suit.
Yesterday I posted a Birthday Song for Chatty Kelly and asked if you knew who sang the song. No one guessed it. :o The song was sung by Sheriff John. I used to watch his show when I was growing up. Let me add that it was not at the beginning of his career lest you think that I'm older than I am ... ah-hem. So today Sheriff John is my special guest and here's a little about him taken from Wikipedia.
Sheriff John was a long-running children's television character who appeared on KTTV in Los Angeles from 1952 to 1970 on two separate series, Sheriff John's Lunch Brigade and Sheriff John's Cartoon Time. He was played by John Rovick.
Sheriff John started each program by entering his jailhouse office singing "Laugh and be happy, and the world will laugh with you ..." before doing a routine which included the Pledge of Allegiance and a safety bulletin. He would also show cartoons, including Crusader Rabbit and Porky Pig among others, have a visit from various farm animals and from an artist "Sketchbook Suzie," who would draw pictures requested by young home viewers. When we kids ate lunch with Sheriff John, we said grace:
"Heavenly Father, great and good, we thank You for our daily food. Bless us, even as we pray. Guide and keep us through this day. Amen." The unquestioned highlight of the show was the Birthday celebration. The Sheriff would read off as many as a hundred names on the show, and then bring out a cake and sing the Birthday Party Polka.
Sheriff John went on giving lessons about safety, good health habits and encounters with strangers for 18 years before his retirement in 1970. Rovick won an Emmy in 1952.
This video is a bit long but if you listen to the 2 minute mark you will see the Laugh and Be Happy song and the Birthday Song. Then skip to the 4:30 mark to hear how he closed out the program's era in 1970, "God be with you." Times certainly have changed.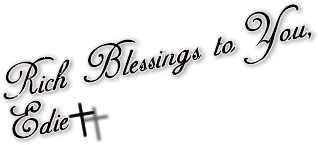 Love the Lord your God with all your heart and with all your soul and with all your strength and with all your mind ~ Luke 10:27