This came to me in an email. I don't do these kinds of things through email, but I thought it would be fun to share it here. Feel free to play along if you want.
1. WERE YOU NAMED AFTER ANYONE? --- Yes but I don't know her.

2. WHEN WAS THE LAST TIME YOU CRIED? --- Last Friday.

3. DO YOU LIKE YOUR HANDWRITING? --- Not really.

4. WHAT IS YOUR FAVORITE LUNCH MEAT? --- Pastrami

5. DO YOU HAVE KIDS? --- All the time.

6. IF YOU WERE ANOTHER PERSON WOULD YOU WANT TO BE FRIENDS WITH YOU? --- Probably not. We would be too much alike.

7. DO YOU USE SARCASM A LOT? --- Not as much as I used to but still more than I should.

8. DO YOU STILL HAVE YOUR TONSILS --- No the jar broke and I had to throw them out. Just kidding. :) Yes.

9. WOULD YOU BUNGEE JUMP? --- No, trampolines are all the bounce I can handle.

10. WHAT IS YOUR FAVORITE CEREAL? --- Lucky Charms and Raisin Bran

11. DO YOU UNTIE YOUR SHOES WHEN YOU TAKE THEM OFF? --- Only if they have shoelaces.

12. DO YOU THINK YOU ARE STRONG? --- Only when I'm weak, then I'm strong and I'm weak all the time so I must be strong.

13. WHAT IS YOUR FAVORITE ICE CREAM? --- Mocha Almond Fudge.

14. WHAT IS THE FIRST THING YOU NOTICE ABOUT PEOPLE? --- It really depends but probably their personality traits.

15. Red or pink? --- It depends on my mood. Lately it's been red.

16. WHAT IS THE LEAST FAVORITE THING ABOUT YOURSELF? --- Insecurity

17. WHO DO YOU MISS THE MOST? --- My Papa (Daddy) and my Grandma.

18. DO YOU WANT EVERYONE TO SEND THIS BACK TO YOU? --- n/a

19. WHAT COLOR SHOES ARE YOU WEARING? --- My feet are naked.

20. WHAT WAS THE LAST THING YOU ATE? --- Sunflower seeds. Do you know they come with instructions? More on this later.

21. WHAT ARE YOU LISTENING TO RIGHT NOW? --- The golden sound of silence... and the ac running in the background.

22. IF YOU WHERE A CRAYON, WHAT COLOR WOULD YOU BE? --- I can't pick just one. I'm a chameleon. Like this one.



23. FAVORITE SMELLS? --- Cologne on a man. --- Chocolate chip cookies baking. --- Fresh air after it rains. --- These are just a few.

24. WHO WAS THE LAST PERSON YOU TALKED TO ON THE PHONE? --- Jaime

25. DO YOU LIKE THE PERSON WHO SENT THIS TO YOU? --- Yes

26. FAVORITE SPORTS TO WATCH? --- I would rather be at a rodeo. The bull riders are amazing! YeeHaw!

27. Your Hair Color? --- Brown

28. EYE COLOR? --- Green

29. DO YOU WEAR CONTACTS? --- No

30. FAVORITE FOOD? --- Depends on my mood. I have lots.

31. SCARY MOVIES OR HAPPY ENDINGS? --- Happy endings.

32. LAST MOVIE YOU WATCHED? --- Michael

33. WHAT COLOR SHIRT ARE YOU WEARING? --- Gray

34. SUMMER OR WINTER? --- Spring

35. HUGS OR KISSES? --- Depends.

36. FAVORITE DESSERT? --- Chocolate cream pie sounds good.

37. MOST LIKELY TO RESPOND? --- n/a

38. LEAST LIKELY TO RESPOND --- n/a

39. WHAT BOOK ARE YOU READING NOW? --- Nothing while I'm on the computer.

40. WHAT IS ON YOUR MOUSE PAD? --- My mouse. Ok there's a picture of two tiger cubs under the mouse.

41. WHAT DID YOU WATCH ON TV LAST NIGHT? --- Don't watch tv.

42. FAVORITE SOUND? --- Laughter of my grandgirls. The fighting I can do without.

43. ROLLING STONES OR BEATLES? --- Beatles

44. WHAT IS THE FARTHEST YOU HAVE BEEN FROM HOME??? --- About 2000 miles.

45. DO YOU HAVE (A) SPECIAL TALENT(S)? --- God gives us all something special.

46. WHERE WERE YOU BORN? --- In a hospital.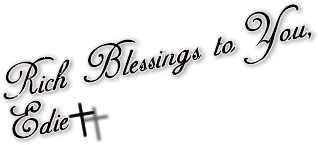 A girl needs to be so lost in God, that the guy is going to have to seek HIM to find her!