Today is Tuesday and you know what that means... Oh wait, wrong meme... that's
ADHD-Jo's
meme. Her sister
Chatty Kelly
also had a meme on Tuesday called Tuesday Tips. That's how I met those two. Well that's how I met Kelly. Hey I just discovered that that was exactly one year ago last Wednesday, 8/19/08.
Anyway, It turns out I was the only person to post a tip in her meme so it turned out to be a very short lived meme. But it began a friendship with a fun and encouraging lady, and her sister and friends too.
Since then I sometimes think up some little tip (nothing spectacular) and think, that would have been good for Tuesday Tips. As providence would have it, Kelly recently started writing a
column
that offers tips for stay at home moms. So all things work together for good to those who love God and are called according to His purpose. Kelly got to write her Tuesday Tips, and on any day of the week she feels like, and the rest of us get to benefit from the fruit of her labor.
If you get a chance, click on the button at the top of this post and take a look at her
column
. Her articles are short so it only takes a moment.
Now I will leave you with my Tuesday Tip:
I was talking with a friend of mine the other night and she was laughing at how her hard boiled eggs look after she peels them. You know, when the shell doesn't want to come off without taking big chunks of the white with it so you end up with a cratered egg.
Do you want to prevent that from happening? Well here's how you can.
After you pour the boiling water out of the pan, leave the eggs in it and fill it with cold water. Then peel the eggs under the water. That will allow the peel to slide off easily without tearing up the egg and it will wash off any missed shell pieces as well.
Gee I could have my own cooking show. Maybe not. :)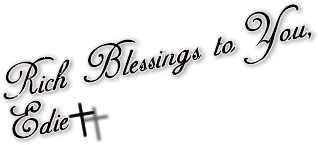 A girl needs to be so lost in God, that the guy is going to have to seek HIM to find her!