I have a friend who has a newer Impala sitting in his driveway that he drives to work a couple of days a week instead of his truck. He purchased the Impala a few months ago with his 18 year old daughter in mind. You see she had found herself in a situation without a job, car, or a place to live, that is unless she moved away from her friends and back home with her mom or her grandma. She didn't want to move away from her friends so she called her dad looking for help.
She had rarely ever contacted him in the past, except when she needed something from him, and he had only just learned that she was living near him even though she had been living in the area for 6 months. My friend met with his daughter a few times and listened to her tell her situation.
He then went out and purchased the Impala. He had decided that he would invite her to live with him so she would need something to drive in order for her to get a job, but she knew nothing of his plans at the time. When he invited her to live with him he made it clear that she would have to obey his rules in his home. She declined his offer. In doing so, she unknowingly lost a blessing that he already had prepared for her. She still doesn't know what she lost and she is suffering hardship as a result of her decision.
I can't help but wonder about the blessings I have lost in the times I have decided not to be obedient to God. He is preparing a blessing for me, I don't want to lose it.
What about you? God is preparing a blessing for you. Will you choose to walk in obedience or go your own way?
Oh Lord, forgive me for the times that I have chosen to walk in disobedience to you. I have already seen great loss of blessing for my past decisions. Thank you that you are a God full of grace and mercy. Help me to be obedient in these circumstances. Give me wisdom and discernment to make right choices and work them out appropriately. In Jesus Name ~ Amen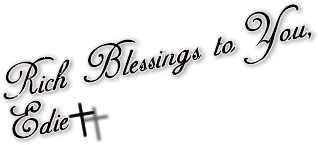 A girl needs to be so lost in God, that the guy is going to have to seek HIM to find her!