I was just visiting Tracy at
Thirsty for Him
and want to quote something she said in her post.
"The "perfect" Christmas isn't about presents, but about His Presence."
As soon as I read that I realized that I had the perfect Christmas. Holidays are always a difficult time for me. My life is so very far from perfect and there is often a strong sting in my heart during holidays.
The Christmas message preached at church the Sunday before Christmas was Do Not Fear, based on what the angel said to Mary when he delivered the news that she would carry the Christ child. The message spoke a lot to my own heart about my own personal circumstances.
On Christmas morning, I turned on my computer to check my email. I had received my daily devotion from Today's Turning Point with David Jeremiah. The title was No More Fear, followed by this scripture...
Fear not, for I am with you; be not dismayed, for I am your God. I will strengthen you, yes, I will help you, I will uphold you with My righteous right hand. Isaiah 41:10
I didn't realize until that moment, how much I needed to hear that from Him but as soon as I did I broke down in tears. Tears of joy not sadness, because I had His Presence, and His Presence stayed with me throughout the day and into the night.
Yes, I had the perfect Christmas. Did you?
Oh Lord forgive me that I am not always seeking to be in your Presence as I should. Thank you for revealing yourself to me on the day I would celebrate your Birth. You are an Amazing God. I love you with all that is within me. Please help me to live my life to bring glory to your Name. The Name above all names, Jesus Christ. My Lord and my King. - Amen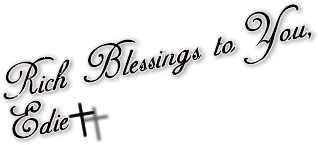 Love the Lord your God with all your heart and with all your soul and with all your strength and with all your mind ~ Luke 10:27