Hi everyone! I hope you all had a wonderful Christmas! It sure has been nice to take time to slow down just a little this past week. Well, maybe I've just refocused some of the energy. :) I've been making a HUGE mess in my house trying to get the rest of the living room painting finished. It amazes me how fast one can make it nearly impossible to walk through a room.

I've also been doing blog makeovers. Not just mine, but also the winner of my last blog makeover contest, Tammy at Not mine but God's Story. Tammy is a very sweet lady with a taste for refined elegance. She was wonderful to work with and I really enjoyed designing for her.

I always pray that God would give me the right design for the person I'm designing for, and that He would help me to create it. He really does do just that and I'm always so amazed at the end result because I know I couldn't do it without Him. Thank you so much Lord.
Be sure to pop over to Tammy's blog to say hi to her and check out her new look. God already made her beautiful on the inside.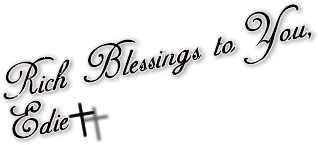 Love the Lord your God with all your heart and with all your soul and with all your strength and with all your mind ~ Luke 10:27