Like many of you, I started my Christmas decorating the day after Thanksgiving. I haven't decorated or even set up a tree in several years so I have really been enjoying it this year. I still haven't done as much as I wanted but I'm glad for this little bit and thought I would share some of my Christmas with you.
I thought I would begin with setting up the tree. I have an artificial tree. My living room is small and there really is no good place to setup a tree so this year I went and bought one of those skinny trees. It fits perfectly right next to the fireplace and is the first thing you see when you walk in the house.
This is what it looks like when you first bring it home. I was a bit worried about having a Charlie Brown Christmas tree at first but it actually came together pretty nicely. It did take a while to spread out all those branches but I won't have to do it every year and it is prelit too. Yay!!
All spread out now and the lights all work. Yay again! I stopped at this point because I was in the process of making some Christmas ornaments that I will leave on the tree permanently and I wanted to put them on first to make sure I spaced them well all over the tree.


I iced some leaves with wire stems using clear acrylic seed beads. This picture doesn't do them justice but they really are very pretty. Then attached a sprig of red berries by wrapping the stem around the sprig. Then wrapped the stem around the branches. I'll show closeups in another post.
After adding the ribbon.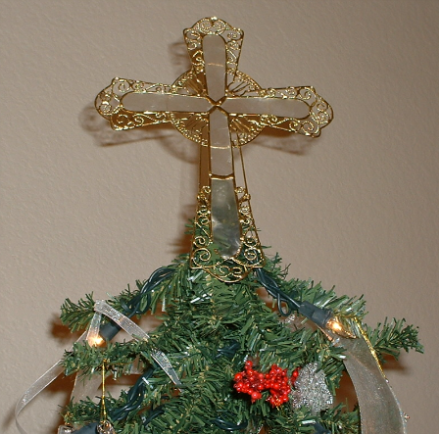 And a capiz shell cross to top the tree.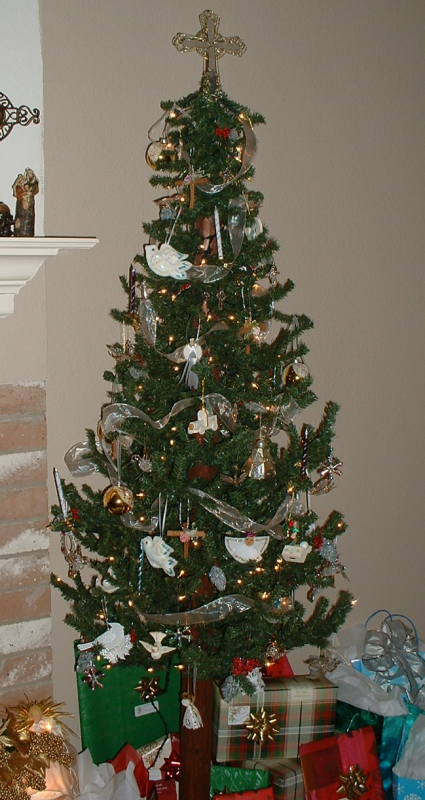 Here is the tree completed. It really is prettier in real life than in the pictures.
I didn't plan for it to be white and gold, it just worked out that way but I'm pleased with it. Many of my ornaments are ones that I have made in years past. I will post closeups of those tomorrow.

Love the Lord your God with all your heart and with all your soul and with all your strength and with all your mind ~ Luke 10:27