After posting this picture of the mocha I made in my Project 365 photos this last Sunday, it seems that many of you were very interested in getting your hands (or is that lips) on it.

I rarely ever watch television so help me out here. Remember that commercial where the lady is in the kitchen behind closed doors making lots of noise as her family or guests listen from the other room with great anticipation for whatever delicious treat she's making? All the while she is barely doing much more than preparing to serve it. Just before she walks out of the kitchen she messes up her hair and flicks water in her face so she looks like she has worked Oh So Hard for them?

Well that's kinda how I felt after the comments I got on this little treat. Now I'm here to share the *receipe*.
Step 1 - Start with a cup or mug. Make it a pretty one because something as delicious as a mocha should always be served in style. Also, it tastes so much better and makes you feel pretty, and we all want that don't we? Except the men that read this blog (Greg), you can drink it in a manly mug.
Step 2 - Add your favorite Hot Cocoa Mix to the cup. As you can see I use the Good Stuff. I usually add one heaping tablespoon but you can add more if you like it real chocolatey. It certainly won't hurt it. This is the same stuff that comes in the little packages where you just add hot water to make hot cocoa, but if you're gonna start making mochas you might as well save yourself a few pennies and all the hassle of opening those packages and just buy the can.
Step 3 - Fill the mug full of your favorite brewed coffee. If you like that bouncing off the wall jittery feeling that Starbucks mocha (or anything else you drink there) gives you, then increase the strength of your brewed coffee by about 4-5 times. Or if you have an espresso machine then make a strong brew of that instead.
Step 4 - Swirl a generous amount of your favorite whipped cream on top. Be sure to make it into a pretty design so that everyone will really think you have been slaving for hours making this delicious mocha. It will really impress them. Yep, yep, yep
Now sit back, relax, and enjoy!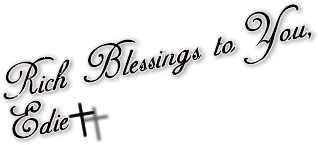 Love the Lord your God with all your heart and with all your soul and with all your strength and with all your mind ~ Luke 10:27