I'm joining Tracy at
Transparent Life
for her Testimony Tuesday. If you have a testimony you would like to bless us with, be sure to head over to her blog to join in.
Then God said to Noah and to his sons with him: "I now establish my covenant with you and with your descendants after you and with every living creature that was with you—the birds, the livestock and all the wild animals, all those that came out of the ark with you—every living creature on earth. I establish my covenant with you: Never again will all life be cut off by the waters of a flood; never again will there be a flood to destroy the earth."

And God said, "This is the sign of the covenant I am making between me and you and every living creature with you, a covenant for all generations to come: I have set my rainbow in the clouds, and it will be the sign of the covenant between me and the earth. Whenever I bring clouds over the earth and the rainbow appears in the clouds, I will remember my covenant between me and you and all living creatures of every kind. Never again will the waters become a flood to destroy all life. Whenever the rainbow appears in the clouds, I will see it and remember the everlasting covenant between God and all living creatures of every kind on the earth." So God said to Noah, "This is the sign of the covenant I have established between me and all life on the earth." Genesis 9:8-17
A number of years ago, I found myself thinking about the rainbow one day. I realized that I hadn't seen a rainbow in years. I hadn't even heard anyone else mention seeing a rainbow in years. Then I started thinking about the meaning of the rainbow. How God had made a promise to all of mankind that He would never destroy the earth by flood again. As I was thinking about God's faithfullness, I began to wonder how many people these days even noticed when a rainbow would appear in the sky. Even if some of them noticed, would they know why it was there? Would they know who put it there?
I began to worship God at that moment for His incredible faithfullness, that even if no one on earth ever noticed or acknowledged His promise, He would still place that rainbow in the sky, and He would still keep His covenant. I was in Awe of Him because I knew that only He would, or could do such a thing.
The next day while I was at work it rained some that afternoon. When I left work to go home, I stepped outside the building doors and there in front of me, almost close enough to touch, was the largest, most magnificent, full from end to end, double rainbow I had ever seen in my entire life. I could almost see God smiling at that moment. I knew this one was mine, made just for me and strategically placed where it would just about knock me over. I only wish I would have had a camera. I marveled at it for about half my drive home, then it was behind me and I was no longer able to enjoy it.
Just as we get immense pleasure from surprising our own children with something that we know will absolutely thrill them, so our God delights to do with us. He is so intimately involved in every detail of our lives.
The Lord directs the steps of the godly. He delights in every detail of their lives. Psalm 37:23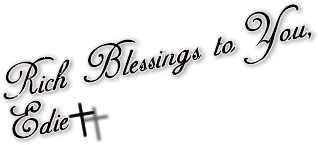 Love the Lord your God with all your heart and with all your soul and with all your strength and with all your mind ~ Luke 10:27