Today I am joining Tracy at
Transparent Life
for a wonderful meme that she just recently started call Testimony Tuesday. She has only posted three others so far but I have been incredibly blessed by each one. Won't you join us in glorifying God on Tuesdays by posting a testimony of His Faithfulness in your life?
"Fear not, for I am with you; be not dismayed, for I am your God. I will
strengthen you, yes, I will help you, I will uphold you with My righteous right hand." Isaiah 41:10


Yes I'm still on this scripture. God just placed a lot about this one on my heart to share. Today I will focus on the part that says "I will uphold you".
I used to have a job where I had to travel 2-3 times a year for the company. I don't like to fly. I don't like the hustle and bustle, hurry up and wait of airports, and flying makes me very nervous. On one trip in particular I was especially fearful and not able to shake it.
I sat there in my seat as we climbed up through the clouds and I prayed and asked God to protect us, make the flight safe, and to hold up the plane. The plane leveled off just over the clouds and I was looking out the window and praying. I could see the shadow of the plane gliding over the tops of the clouds. Then I noticed there was a faint rainbow that completely encircled the shadow of the plane. I was very intrigued by it and realized as I watched it that it stayed with the plane's shadow as we traveled.
At that moment it was as though God was saying to me that the faint rainbow that encircled the shadow, was itself a shadow of the glorious rainbow that He had encircling the plane I was in. I was reminded that the rainbow was a symbol of God's Glorious Presence and obsolute sovreignty over all things. He was telling me that He was holding up the plane just as I had prayed. The fear left me and I sat there in amazement that He would do something so wonderful to calm my anxious heart.
I did a little research before posting this and discovered that those circle rainbows are actually called Glories. That is just amazing!
Soli Deo Gloria ~ For the Glory of God Alone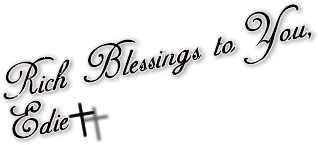 Love the Lord your God with all your heart and with all your soul and with all your strength and with all your mind ~ Luke 10:27