Do you know what this is? It's my new Faith bracelet. It was made for me by a young girl who's mom has cancer. This young girl is being used by God to produce prayer warriors for her mom. Cindy at
Army Brats and Me
is this girl's mom.
I wear this bracelet often, and when I'm not wearing it I keep it around the house in visible places so that I am reminded to pray for Cindy. I am praying for you Cindy.
But you know what else? This young girl's bracelet is not only reminding me to pray for her mom, it has also reminded me to pray for many of you as you have needed or as I have thought of you. I won't name you but if I have told you that I would pray for you in some way, I am doing so on a daily basis because of this girl's bracelet.
I am encouraging you to go pay a visit to her, lift her up in prayer, leave her an encouraging comment, and ask how you can get one of these bracelets to remind you to pray for her mom also.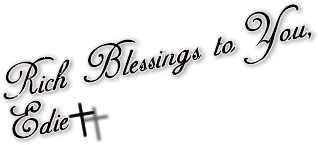 Love the Lord your God with all your heart and with all your soul and with all your strength and with all your mind ~ Luke 10:27