I'm joining Tracy at
Transparent Life
for Testimony Tuesday again. If you have a testimony you would like to bless us with, be sure to head over to her blog to join in.
Do you trust God for the little stuff? Do you pray about even the seemingly insignificant things? Nothing in our lives is insignificant to Him. He delights in being a part of our everyday, ordinary, mundane life.
Several years ago I decided I wanted to paint the outside of my house. Actually that would be the trim, gutters, and garage, since my house is all brick. I wasn't sure what colors would look good with the brick on my house and I was really worried about choosing a color. You know how sometimes a color can look so good on that little card but when you put it on a large space it can be a bit shocking? Well this was going to be the
outside
of my house. The part that is seen by the whole world. Ok just by my neighbors but you get my concern. I was also concerned that I would just choose something that didn't really look so good with my brick. So I prayed about it and asked God to choose the colors for me that would look good.
After sifting through cards and colors and comparing to my brick and praying and praying I decided on two colors. I got up early and started painting on one side of the house. I kept thinking the color didn't look the same as on the card. I thought maybe because the paint was still wet, it would look right when it dried. I painted several hours and just couldn't shake the thought that the color was off. I held the card up to it several times and finally decided that it didn't match the card. It was only off by a tiny bit but it made a difference and I knew I wouldn't be satisfied.
I stopped painting and took the paint back to Home Depot and showed them that it didn't match the card. They mixed up another can and it still didn't look right to me. It was lighter than the color on the card. The next color on the card was too dark and didn't quite match either, so I asked if they could make it halfway between the two colors. The man helping me said he could but the color on the card included one drop of red that he couldn't take it out. I said it was fine, I wasn't worried about one drop of red, so he mixed up my special order color that I could not take back if it wasn't right.
I took it home and started painting again and the color was
perfect
. I realized that the first color looked wrong because it was too light but also had a mild yellow tone to it. What I needed was something a little darker with a red tone to it. That one drop of red paint was exactly what I needed to get the right color to match my brick, and the only way to get it was to special mix the color. God knew that all along and arranged all of the circumstances so that I would end up with that single drop of red paint. He is Amazing!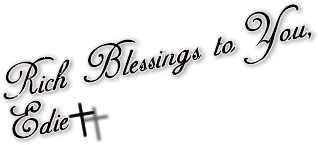 Love the Lord your God with all your heart and with all your soul and with all your strength and with all your mind ~ Luke 10:27