This is the very first ever taken of my grandaughter Olivia. Isn't she cute? :) Olivia was born 3 months premature. These are the events that led to her birth and how God arranged all of the circumstances and cared for her all the way.

Before my daughter knew that she was pregnant, she was in a car accident. She was broad-sided by someone making a left-hand turn as she was driving through the intersection. The car was totaled but Nikki seemed to be ok. She didn't go to the hospital at the time of the accident but did go to the doctor shortly after that just to get checked out. Before her appointment, she discovered she was pregnant so no x-rays were taken and the visit didn't show any external injuries.

After finding out she was pregnant, she made an appointment with an OB/Gyn but could only get an appointment with the nurse practitioner until she was 3 months pregnant. It seemed this doctor was just too busy to keep up with her patients. Nikki kept her appointment with the nurse practitioner but no exam was done. Shortly after her first visist she started bleeding so she called to make an appointment with the doctor and to get an exam. The doctor's office still wouldn't give her an appointment with the doctor for at least two months. They told her she could only see the nurse practitioner so again she saw the nurse practitioner and was not examined, but she was sent for an ultrasound.

The ultrasound didn't show anything wrong so the nurse practitioner said nothing was wrong and told Nikki that it was normal to have bleeding when your pregnant and it wasn't necessary to have an exam. The office still wouldn't give her an appointment for an exam with the doctor for two more months. Nikki worked waiting tables and wasn't sure if she should continue working or what she should do so she asked the nurse practitioner who told her she could do whatever she wanted to do.

That weekend she began bleeding again and I took her to the ER. The doctor at the ER, who was affiliated with the doctor's group where Nikki had been, told us that it was normal to have bleeding when you're pregnant. At that point I had had enough and made it very clear to him that it might be common for some bleeding to occur but it was in no way normal. Then I asked him if it was his daughter or his wife, would he want them to be examined. He paused for a moment, knowing that he had said the wrong thing, and then sheepishly answered yes he would want them examined.

We left the ER without any explanation, satisfactory concern, or instructions for care. So I immediately found another doctor. I called and explained the situation and they scheduled an appointment with the doctor for an exam that Monday. Interestingly, the first doctor who had never seen Nikki, sent her a letter stating that she would no longer be her physician and was not liable for anything that may go wrong in her pregnancy.
The new doctor did an ultrasound in his office and didn't find anything unusual but wanted to monitor her so he scheduled weekly visits with ultrasound for some time and took her off work.

The bleeding stopped and all seemed to be well with Olivia's growth and condition so he put Nikki on regular prenatal visits but continued with the ultrasounds to keep an eye on things. As Olivia grew he noticed that Nikki's uterus was heart shaped and smaller than normal. It didn't seem to be a problem but unusual and he wanted to monitor that as well to be sure it didn't present a problem later on.
In a later visit as the uterus expanded to hold Olivia, the doctor noticed in one of the ultrasounds that a portion of the placenta had pulled away from the wall. We didn't know for sure but suspect that may have been what caused the bleeding in the beginning of her pregnancy.
God knew everything that had happened from the beginning and was also monitoring Olivia's progress. Come back tomorrow when I post the rest of this story to see His hand in Olivia's untimely birth. Did I say untimely? God's timing is always perfect.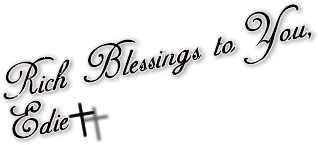 Love the Lord your God with all your heart and with all your soul and with all your strength and with all your mind ~ Luke 10:27