Lea at the Shabby Olde Potting Shed and I have come together and started a new blog,
Creations 4 the Glory of God Alone
. Our purpose is to Glorify God through art and crafts. We will be sharing our own creations, offering ideas, and spotlighting others ideas as we see them. We even plan on having giveaways and challenges.
If you are a creative person, or even if you're not and need help then please come by and see what we're doing. We would love to hear from you!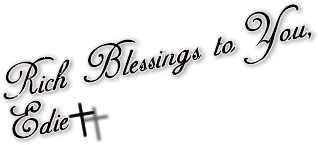 Love the Lord your God with all your heart and with all your soul and with all your strength and with all your mind ~ Luke 10:27