I was visiting Beth at
warmHarte
, and she has posted a "Pay It Forward" Challenge on her blog. This is a great way to bless others with a surprise in their mail--using your time, talent, and love.
Here are the rules as posted on her blog:The first 3 bloggers to leave a comment letting me know they want to participate, will receive a hand-made gift from me. Those 3 bloggers promise to post this challenge on their blog (meaning they too will 'pay-it-forward', creating a handmade gift for the first 3 bloggers that leave a comment on their blog!!)
The gift can be any price range--though I'm thinking that keeping it small will be sufficient--and you have 365 days to make/ship your gift!! As for me, I promise not to take a year to send you a gift! What will the gift be you ask? Well, I don't know just yet, but I'm thinking of a couple of things.
If you want to participate, just leave a comment telling me so and then repost this on your blog so that you can pay it forward to 3 others, and so on, and so on, and so on.......You can still leave a comment on what you think about this even if you don't want to participate!!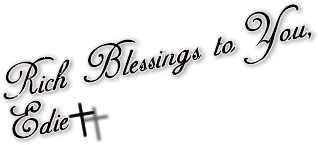 Love the Lord your God with all your heart and with all your soul and with all your strength and with all your mind ~ Luke 10:27