The picture is not very good but I don't have one better. This is Olivia in her incubator. She is wearing a hat and has her first stuffed animal next to her head. It is a little Eeyore that I bought for her.

This picture is a little bit better.

Yesterday I told you about the events that led up to the birth of my first grandaughter Olivia and how God's hand was protecting her from harm. You can read that post here if you haven't already. Today I will tell about her birth and God's hand in the events that followed.

I hope the first sentence is not too graphic, I couldn't think of another way to say it.

As Nikki was going into her 7th month she called me one night and said she had just gushed a lot of blood. Looking back, what I think happend, at least in part, is that her water broke. So I went and picked her up and took her to the ER at Cooks Childrens Hospital. They got her right in and as they were about to do an ultrasound, she began to miscarry. They rushed her into surgery and did an emergency C-section.

Olivia was born weighing 1 lb 5oz. She was small enough that if we had been allowed to hold her, she would have fit into the palm of my hand. We couldn't touch her or hold her because they said her skin was still not completely formed and that the slightest touch could tear her skin. She was in an incubator and had nothing on except a hat and a diaper. I felt so bad for her and wanted so much to hold her and comfort her. They said the hat was for comfort. For a long time afterward, Olivia loved to sleep with something around her head, stuffed animals, blanket, pillows, it didn't matter. She also likes hats to this day. I prayed for her a lot and fully believe that Jesus was holding her the whole time.

The doctors were amazed at how well she did. She exceeded all of their expectations. Only once was there a complication and even then I know God intervened. Olivia developed retinopathy of prematurity. This is a condition that occures in preemies where the blood vessels grow over the retina and can detach the retina causing blindness if not monitored and treated properly. It is measured in stages 0-5.

When Olivia's was caught it was at stage 2. They said that if it went into stage 3 they would need to perform surgery. Well somehow it ened up in stage 4 before anyone caught that the surgery had not been scheduled. There was no guarantee that the surgery would prevent the blindness. But God (two of my favorite words) was there. The surgery went well and again the doctors were amazed at how well Olivia recovered and thrived. She does have a lazy eye and needs to wear glasses but her vision could be far worse.

Olivia was scheduled to be in the hospital until she was 3 months old, but she did so well that she was discharged at 2 months. Olivia is now 10 years old and is in the excell program at school. She is very bright and very loving, and she gives thanks to God for saving her life.

For I know the plans I have for you," declares the LORD, "plans to prosper you and not to harm you, plans to give you hope and a future. Jeremiah 29:11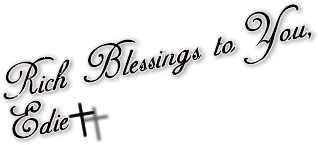 Love the Lord your God with all your heart and with all your soul and with all your strength and with all your mind ~ Luke 10:27