Some of you asked for recipes for the 7 can soup and the cinnamon crisps that I showed in my Project 365 so I'm posting both recipes here. Both are delicious, inexpensive, and easy to make.
7 Can Soup - This is as easy as it sounds.
Ground Beef
1 Can Beef Broth
1 Can Tomato Sauce (+ 1 can water)
1 Can Rotel
1 Can Corn
1 Can Green Beans
2 Cans Ranch Style Beans
Brown the ground beef. Add all other ingredients. Simmer 20 minutes. Serve.
(This is also good topped with sour cream and/or shredded cheese.)
Cinnamon Crisps
1 Can Refrigerated Crescent Rolls
1/4 Cup Melted Butter or Margarine
1/4 Cup Sugar
1 tsp Cinnamon (I like cinnamon a lot so I used a little more.)
Heat oven to 375 F. Grease a cookie sheet and set aside.
Separate dough rectangles and form a rectangle approx 6" x 14" (or two rectangles approx 6" x 7"). Press perforations together to seal. Brush with half the butter.
In a small bowl, mix cinnamon and sugar. Sprinkle half of the mixture over the dough.
Starting at the long side of the dough, roll it up into a log. Pinch edge to seal. With serrated knife, cut 1/2" thick slices. (You may want to refrigerate for 15 minutes if dough is too soft to cut well.) Lay each slice between two sheets wax paper and press or roll flat (approx 1/4" thick or less).
Brush with remaining butter and sprinkle remaining cinnamon and sugar mixture. Place on cookie sheet and bake approx 15 minutes.
Immediately remove from cookie sheet. Serve warm or cool.
Options:
1. Icing - Mix 1-2 tablespoons milk and 1/8 tsp vanilla. Add 2-4 tablespoons powdered sugar til of desired consistency. Drizzle over cinnamon crisps.
2. Press chopped nuts or dried fruits, such as dates, raisins, cherries into dough slices before baking.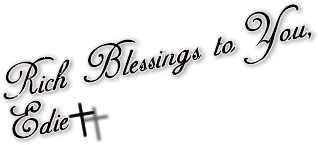 Love the Lord your God with all your heart and with all your soul and with all your strength and with all your mind ~ Luke 10:27