But he said to me, "My grace is sufficient for you, for my power is made perfect in weakness." Therefore I will boast all the more gladly about my weaknesses, so that Christ's power may rest on me. ... 1 Corinthians 12:9
This is a Truth that is hard to fully grasp until it has been experienced. Most of us know this verse and refer to it in diffucult circumstances, but I understood it best when I experienced it.
For 24 years I was a smoker. For the sake of clarification, I smoked cigarettes. I started smoking when I was 14. During most of those years I smoked a pack a day. Near the end of those years I was pretty close to 2 packs a day.
If you have never smoked then you have no idea how difficult it is to quit smoking. As a matter of fact, most smokers would like to quit but haven't been able to. It's an addiction, a strong addiction and a habit as well. Smokers will pick up a cigarette even when there is no urge because of habit.
I had tried to quit numerous times. I had tried the patch and other methods, and was sometimes a little successful for a few days at best. Eventually I got to a place where I could not cut back to less than 4 cigarettes a day when I was trying really hard to quit. I was persistant about it too. I prayed and prayed for God to help me quit smoking, but nothing.
Finally I had the thought that God was not as concerned about my smoking as I was. Not that He didn't care, don't misunderstand me. Just that it wasn't as pressing to Him as it was to me. I was making a bigger issue of it than He saw it. So with that I stopped trying to quit smoking. I didn't realize it at the time, but that thought came from the Holy Spirit. Now don't gasp at me until you read the rest of this.
A number of months past and God began telling me to quit smoking. Well by now I was out of the mindset to even try and I knew I couldn't because I had proven that in past attempts, so I pretended it wasnt Him. That Voice might be small but it sure can be persistent. It followed me, and followed me, and followed me. Now I want to add here that I did not hear once single sermon or comment from anyone, anywhere about smoking during this time. Just the persistent Voice pressing me to quit smoking.
I used to have a clock radio and would set it about 1 1/2 hours earlier than I wanted to get up so I could listen to three Christian programs that I liked. Most of the time I hit the snooze button but I did catch parts of the programs. So about two weeks of pretending that God wasn't telling me to quit smoking, the radio came on and the program was talking about the consequenses of disobedience to God. I hit snooze. The second program came on talking about the consequences of disobedience to God. I hit snooze again. The third program came on talking about the consequences of disobedience to God, and I jumped out of bed yelling OK I HEAR YOU! I wasn't yelling at Him as in disrespctfully, but to Him as I knew I had to listen to Him and stop running. Then I proceeded to have a discussion with Him about the situation.
To see how it turns out you will need to come back tomorrow. :)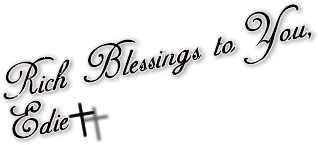 Love the Lord your God with all your heart and with all your soul and with all your strength and with all your mind ~ Luke 10:27