I was visiting Kat's blog, Heart 2 Heart earlier this week and she had an interesting meme posted where she was given five random words to post about. I thought I would give this a try, and will add that it's harder than I expected. :)

If you would like to play along let me know and I will email you five random words. Here are the words Kat gave me. All but one made me immediately think of Christ.

1.

Heart

:

Create in me a clean heart, O God. Renew a loyal spirit within me. Psalm 51:10
- I want my heart to be fully devoted to Jesus in every way. I wish I could say that it always was, but as I am tried, I discover there are still areas that are not as loyal as I had thought. I pray that if God ever gives me a husband that he will be completely sold out for Christ. Two hearts cannot remain joined together through life if they are not encouraging each other in the same direction.


2.

student

: I think it's interesting that this is the one word that Kat did not capitalize, because I don't like school. I almost didn't graduate high school because I wanted to work. I took the easiest classes available so that I wouldn't have homework to get in the way of holding a job. The worst part is that the school let me. After taking geometry, I was allowed to take basic math. We're talking 2+2 kind of basic.

On the flip side to not liking school, I love to learn. I just prefer to dig into a subject on my own and work at the pace, the place and the time that I want to. I learn much more that way and usually spend many more hours digging in. Sometimes I would like to discuss questions I may have with someone who has more knowledge about the subject. I'm so thankful that I can take all my questions to God and that He will answer and teach me. I love being His student and learning from Him. -

Teach me your way, O Lord, and I will walk in your truth; give me an undivided heart, that I may fear your name. Psalm 86:11



3.

Living

:

But the Lord is the only true God. He is the living God and the everlasting King! Jeremiah 10:10
- This truth astounds me. The fact is, our God is a Living, breathing, active God. All other gods are the product of man's imaginations. But the Living God who created all things, fashioned us from HIS imagination and in the likeness of HIS Image. What an incredible honor.


4.

Paradise

:

And Jesus replied, "I assure you, today you will be with me in paradise." Luke 23:43
- This is where it all began and where it will begin again. I say begin again and not end because my life will only just begin when I step into the other side of eternity where paradise awaits. I think my heart longs for this more than anything else.


5.
World
:
"Be still, and know that I am God! I will be honored by every nation. I will be honored throughout the world." Psalm 46:10
- Usually when this scripture is quoted, the second part of it is left out. The fact is, we are here to Honor God. In this day and age, few people honor God in their speech or action. We are so used to seeing it that we have become tolerant and hardly phased when God is disrespected. When I think that one day the entire world will honor Him, I am utterly amazed. It is something that is hard to really wrap my mind around.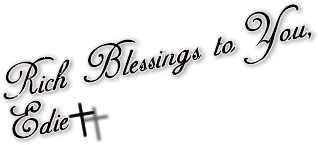 A girl needs to be so lost in God, that the guy is going to have to seek HIM to find her!