This is my sweet little Tobi. I love her to death but there are times when she seems to be under the delusion that she is in control around here. I want you to know that she is deliberately not looking at me because she knows I'm taking her picture. Usually she wants to be right up in the picture but she was feeling a little rebellious right then. Maybe she was just embarrassed about the scar on her pretty little face.

Yes I tried for another one and she did it again.
Last week I opened the back door to let Tobi in and just at that moment she heard something in the garden so she went to inspect the territory. Just as she thought, a cat! It had been a while since she ripped the squeaker out of something furry so she thought she would try it now. But this cat was evil.

Instead of running for dear life and trying to get out of the yard, which it didn't belong in to begin with, it held it's ground. The two of them were right in front of me hissing and snarling and baring teeth all over the place. I grabbed a towel that was near the door and tried to shoo the cat away with it but it hissed at me. Now as much as I love animals, that was just wrong. I flung the towel at it a bit harder and it ran under the fence, and then it turned around and watched us.

I let Tobi in the house and as I closed the door I saw the evil cat slink back into my yard and resume it's position in my garden, as my dog sits in front of me with blood all over her nose and ear. So I went and got a squirt bottle, set it at the long and straight stream and made sure that cat knew it was not welcome. I haven't seen it since.

Fortunately the cat didn't get Tobi's eyeball but it did get her bottom eye lid. This is what an antibiotic looks like after it has been stuffed into the center of a hot-dog, chewed up and then spit out... twice. I had to make her an egg, over easy, and mix it in the egg to get her to take what was left of this.

This is proof that I really love my dog.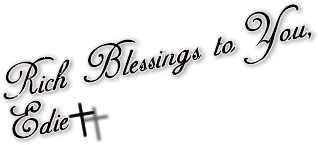 A girl needs to be so lost in God, that the guy is going to have to seek HIM to find her!