I just copied this from Lisa's blog Glad Chatter. Please pray.
--------------------------------

Melanie, over at Bella Mella, just called. Her son, Andrew, who is battling brain cancer just went into surgery to save his life. They have had a very difficult three days and the Lord led them to Shand's Hospital in Gainesville, Florida this morning. Dr. Pincus is performing the surgery and they will be in the operating room for about the next four hours. The Dorsey's were told the surgery was inoperable yet God has led them to surgery. Please pray for our good and mighty God to perform a huge miracle in Andrew's life. I will keep everyone updated as I hear more. Melanie thanks everyone for storming the gates of heaven on her boy's behalf.
Our God is mighty to save!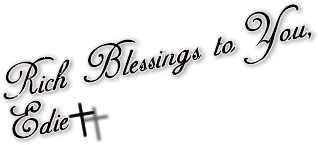 A girl needs to be so lost in God, that the guy is going to have to seek HIM to find her!