The Blogger peeps must be working on new features or updates. I can tell because I have been having trouble with everything I've tried to do in here for the last few days. (sigh)
It won't let me upload pictures right now, and I ran out of time. Have to take Computer Girl to school now and run some errands. I will be back later to try again.
Have a great day!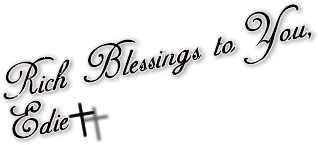 A girl needs to be so lost in God, that the guy is going to have to seek HIM to find her!