Let's begin with an Awesome Praise report. If you haven't already been to
Melanie's blog
this morning, you need to rush right over and read what God has done. All I'm going to say is Andrew is alive and well!
Thank You, Thank You, Thank You God!!!
~~~~~~~~~~~~~~~~~~
I have had the privilege of receiving two awards this week. It's been crazy busy around here and this is the first chance I have had to post them.
The first is from one of my newest bloggy friends, Kat at
Heart 2 Heart
. I think most of you may already know Kat, but if not, please do yourself a favor and go visit her. She is a real gem with a wonderfully loving heart.
Kat has kindly awarded me with this Awesome Prayer Warrior award. I am truly honored to receive it and I thank you Kat.
Now the rules say I am supposed to pass it along to other prayer warriors. I know that we all pray for each other but there are a few who have a deeper passion for prayer or feel called to pray and encourage prayer more strongly. So I am going to pass this on to those people. You may have already received it or you may be one who doesn't post awards and I respect that. If that is the case then just know that you have been thought of.
Lisa Shaw at
Sharing Life with Lisa
Beth at
An Instrument for His Glory
Alice at
From the Heart
Stephanie at
SHEPHERD'S WALK at Sweetbriar
~~~~~~~~~~

The next award came from a dear bloggy friend that I have known for a little while, and his mom. If you know me, then you surely know how much I love animals. Well my furry friend Sitka at
All God's Creatures
, yes it is his own blog, has awarded me with this humane award. Thank you so much Sitka.
Sitka has a helping ministry working for the Lord. If you haven't met him then please go introduce yourself and tell him I sent you. Say hi to his mom Andrea while you are there too. ;)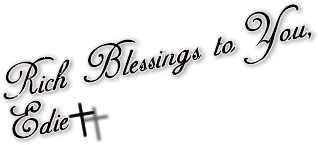 A girl needs to be so lost in God, that the guy is going to have to seek HIM to find her!