I am joining Sonya today for Thankful Thursday. Feel free to pop over to her blog, grab the button, and join in.
1. Thank you Lord, for being so faithful to provide for me during this time of financial concern. I don't know what Your plan is or how You will work it all out, but I choose to Trust You.
2. Thank you Lord that my grand-girls pray for the specific needs of others, including me. What a joy that is to hear.
3. Thank you Lord that the cat didn't get Tobi's eye, that the vet only charged me half of the cost of an office visit, and that Tobi did not need to be sedated. She doesn't let anyone do anything to her, except me, and then cautiously. This vet and his assistant were excellent in the way they handled her.
4. Thank you Lord for not giving up on me. You are faithful even when I am not. Keep me under your wing.
5. Thank you Lord for all the rain we have had lately.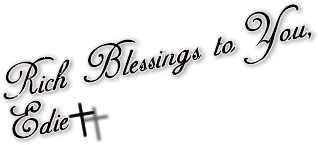 A girl needs to be so lost in God, that the guy is going to have to seek HIM to find her!