Beverly at
Dancing with Daffodils
and her husband are leading a Prayer Conference Call today for Melanie's son Andrew. Please join in if you are able.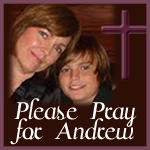 Here are the details copied from Beverly's blog.
Melanie's 12 year old son, Andrew is in critical condition with a brain tumor coming against his life. We need to join all of our individual prayers together to take a stand, looking to God.
What WILL God do when we call upon Him? What WILL God do when we put our trust in Him?
He will listen. He is faithful. He wants us to call upon Him! Let's ask.
Sunday, Sept. 27, 3 PM EST
1-605-475-6350
Access Code 81560
*From the U.S., normal domestic long-distance charges apply. Cell phones work fine.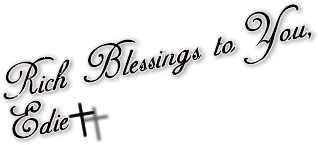 A girl needs to be so lost in God, that the guy is going to have to seek HIM to find her!