Just some of the stuff that made up my week. Some thoughts, observations, or events.
1... I have noticed that the price of gas has been going down again lately. I'm a little nervous about making that observation public.
2... This is the inside of my Envoy. Notice that I have three rows of seats. I thought that was pretty cool so I could carry extra passengers if need be. What I don't understand is why the manufacturer didn't include another way to get into that 3rd set of seats except to climb over the 2nd set. The kids don't seem to mind it. Would you?
3... I think that the manufacturers of coffee makers with an automatic shut-off feature should make the length of time before shutting off programmable. Cold coffee just isn't good.
4... Have you ever noticed that God gave ants the ability to materialize out of thin air? I had a slow trickle of ants on the pantry floor this week. I killed them all, swept them up, then three or four materialized right in front of me. No matter how many times I killed them, they just kept materializing.
5... I really dislike the sensation of being hot and cold at the same time. I don't know whether to take something off or put something on.
6... One night while I was sleeping, I felt some light movement on the back of my shoulder. I reached behind me to wipe my shoulder and felt something round get caught between two of my fingers. As I brought my hand forward, the object was flung out of my fingers and
I heard it hit the wall
, then I fell back to sleep.
I was sleeping pretty deeply it seems, as I woke up enough to remember the details (vividly), but not enough to care much at the time. The next day I fully realized that what I felt was a good size spider crawling on my shoulder.
I heard it hit the wall.
Yuk! I also realized that God was watching over me. I'm so glad He doesn't sleep. I'm still recovering from the trauma.
Have a great weekend!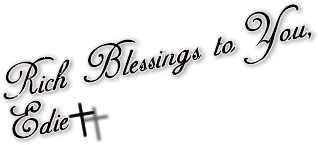 A girl needs to be so lost in God, that the guy is going to have to seek HIM to find her!